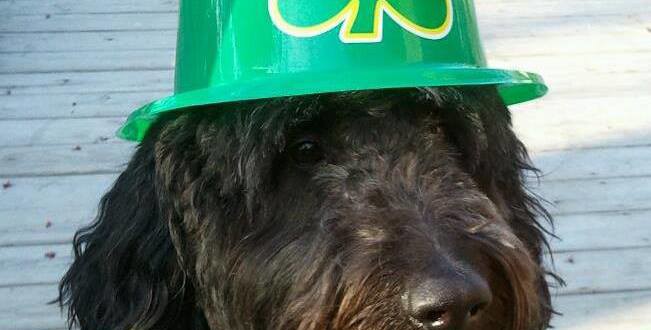 March may come in like a lion and leave as a lamb, or the other way round. We never know until it comes and goes, but one thing is certain: sometime in the middle it kind of acts like a leprechaun.
Whether by heritage or choice, it does seem that by the middle of March most of us our happy to get our Irish on. Some of us may be looking for a pot of gold while others are just looking to get a little potted at the end of the rainbow.  Whatever the lure, it is that one time of year when we all may come together and become an Irish version of ourselves. So why not share a bit of the Irish Spirit with your pet?Just not the alcoholic kind, because even though you may feel that it's not such a long way for you to Tipperary one or two, sharing with McCanine or Felinannigan will require that you be a very short way from your veterinarian.
So, as long as you are feeling a bit of the blarney, why not bring out the Irish terrier, wolfhound or setter in your own pup! Consider throwing on a wax jacket, tweed cap, pinning a shamrock to the collar of your Irish Rover and legging it down to the parade together, or maybe just parade around the dog-park and whistle a little "Molly Malone".  At the very least, find a green tennis ball and have a toss with your wild Rover on the emerald isle-ish plot of land nearest you.
Another fine thing might be to find a green tipped laser light to have a bit o' fun with O'Fluffy. Maybe try tying some green feathers to the end of a string or line and dangle it in the air and tease your puss in bits. However, as tempting as it might be to mess with food and drink, keep in mind that dogs are color blind — in particular green and blue blind — so coloring the water bowl or food green will probably be lost on them, not to mention that any additives don't add up for good pet health, so all in all a good avoid.
But even as you seek your rainbow, do keep in mind that during this near Spring celebration the air may give rise to Spring like temperatures.  While the warmth is welcome, the little critters that like to hitch rides on our O'Pets are not. Like the fairies, you don't expect to see them, but unlike the fairies, they will most definitely appear, especially after such a snow laden winter.  The fleas and ticks may be nay never no more in the frost, but the their wee eggs incubate in the snow and start hatching at the first sign of a sustained snow melt and they will be very much alive-alive-oh. Thus, before you head out to the green, put on the flea and tick rid as well, and have a grand time of it, wearin' o' the green!