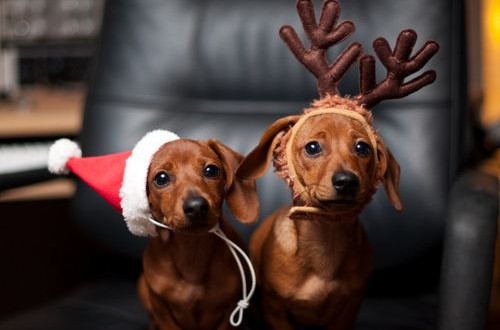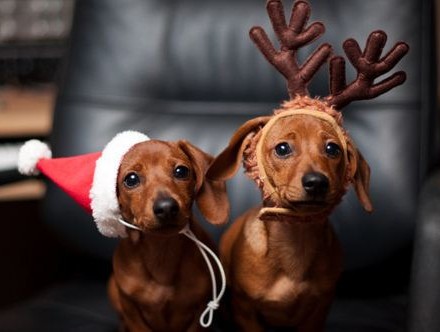 We have made it over the river and through the woods, passed the pumpkins and the turkeys to where it's getting to look a lot like, well, December. Yes 'tis the season to be jolly and spread our jolly with those around us, including our best furry friends. However, since we do gimel a shin, there are a few things to keep in mind before we follow anyone in merry measure to make certain that the hey, ho, ho fun does not turn into to oh, no, no what have I done!
Everybody knows that a turkey and some mistletoe help to make the season bright, but just the same, it's good to be extra thoughtful this time of year. So, with that in mind, below are some seasonal suggestions to help you and your BFF stay happy and merry.
Candle Cautions: It is safe to say that dogs and cats do not get drawn to flames like moths. Just the same, one should keep in mind that the flames are fire and fire burns.  Thus, in order to avoid any chance for a festivals of lights turning into a blazing house before you, take some time to scout out a good spot for candles before lighting. The setting should not be on or near a favorite perch, with room to climb behind or on any table end.   
Decor Directives: When decking the halls, make sure not to deck too low and that all cords are hidden or secured to surfaces.  It is very likely that Buster and Mittens will see these as low lying fruit and give them a nibble, or just pull at them for the fun of it. Should plants be including in your holiday planning, here is the skivvy on what makes whom sick. The poinsettia won't put your pet's life at risk, but ingestion of the leaves will cause irritations in the mouth, vomiting and diarrhea. A kiss under the mistletoe can make human hearts flutter but in fact a taste of it can cause real heart problems for your pets, so keep it high. Lilies are lovely, but do pose a greater danger for Kitty as ingesting even the pollen can cause a feline to suffer kidney failure. 
Food Forewarnings: It's very likely that Rex and Whiskers have yet to break their newfound feeding from the table habits begun at Thanksgiving, and are now hovering around the gatherings of people and food that tend to be more abundant this time of year. It seems harmless enough to slip a piece from your plate to your BFF, but keep in mind fatty scraps can cause inflammation of the pancreas, vomiting and diarrhea and in some cases blockages of the intestines, so it might be a good time to start directing them back to their pre-holiday healthier-for-them food routines. With that in mind, know that visions of sugar-plums are better dancing in heads than dancing into mouths and dashing through digestive tracks of cats and dogs. Chocolate in most forms is quite toxic even in small amounts. Dogs in particular should not ingest grapes or raisins, as it leads to kidney failure and anything containing the artificial sweetener Xylitol can be deadly as it causes a severe drop in blood sugar and liver damage.  And though it is easy to get carried away and let holiday spirits get the best of you, if you let them get the best of your cat or dog, you may not have your furry friend around much longer to celebrate.
 Tree Tips: Firstly, know that to a cat Oh Tannenbaum looks just like Oh Kitty Tower and Scratching Post.  Your cat will want to climb it and more than likely will. So, it is best to set up the tree and wait a couple of days before you decorate it.  That way, Fluffy or Tom can explore it without risk of getting tangled in the lights or tinsel. Also, you might want to rethink tinsel altogether. As playful as it is, it is not good for digestion.  As for the ornaments, you might want to hang the more fragile ornaments on the higher branches as their dangling will present an early gift for cats who like to bat about shiny things that move. Thus, much pleasure doth your tree will bring both of you.
Just in the off chance that you now think the holidays just provide pet owners with additional things to fret over, think again.  For, in fact, there is much seasonal cheer to share as well. Put a bell on Max's collar and paint a sprig of holly on his dish. Give the dreidel, dreidel, dreidel a spin and let Mitzi play. Don't clean up the boxes or wrappings right away and let them both play some more! Roast some chestnuts on a not too open fire, let Jack Frost nip at your nose, and sip some 'nog to bite him back. And although it's been said many times, many ways, Happy Holidays to you.